De mooie Herfstschroeforchis tuinorchidee wordt door de Amerikanen "the fragrant lady's tresses" genoemd en is de laatst bloeiende van inheemse orchideeën.

Krijg 10% korting door in te schrijven op dit formulier tegen zondag 2 september om middernacht
De herfstschroeforchis (Spiranthes spiralis) is de laatst bloeiende van onze inheemse orchideeën en een van de zeldzame soorten met een geurige bloei
Deze mooie orchidee wordt door de Amerikanen "the fragrant lady's tresses" genoemd. Ze dankt deze bijnaam aan het feit dat de Herfstschroeforchis bloemen zich bij hun verschijning als vlechten over de hele lengte van de rechtopstaande bloemstengels lijken te kronkelen.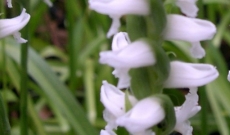 Boven de mooie zilvergroene bladrozetten steken rechtopstaande stengels uit, die zuiver witte bloemen met een subtiele vanillegeur dragen, die zeer lang houden; ideaal voor boeketten van verse bloemen.
De bloei heeft plaats van begin september tot oktober. Dit is de enige tuinorchideeënsoort die in die periode van het jaar bloeit. Daarom vormt ze een uitstekende aanvulling op uw bloembedden van Cypripedium, Dactylorhiza of Bletilla, die in de lente of zomer bloeien.
De bladeren van het jaar verdwijnen in de bloeitijd en er verschijnen nieuwe bladrozetten vanaf het einde van de herfst.
Phytesia aanbiedingen die Spiranthes bevatten
Wat moet ik doen wanneer ik mijn Spiranthes Spiralis ontvang?
Wij raden u aan om onze winterharde orchideeën meteen bij ontvangst van uw bestelling in de tuin te planten om uitdroging van de wortelstok in de pot te voorkomen. De Herfstschroeforchis Spiranthes houdt van vochtige humusrijke grond, blootgesteld aan halfschaduw, waarin ze zich in min of meer dichte kolonies verspreidt.
De Spiranthes kunnen ook in potten worden gehouden om uw terrassen te verfraaien. Toch raden wij het gebruik van een voldoende grote pot (met een minimale diameter van 30-40 cm) aan om de ontwikkeling van nieuwe loten niet te hinderen. In de winter, in streken met een zeer strenge koude (lager dan -20°C), moeten de potten op een koele plek worden geplaatst, beschut tegen zware vorst.