You can find Butterfly & Bee Booster Seed Carpet 2M x 48cm on our partner's website YouGarden. You will find it in the category Lawncare
Butterfly & Bee Booster Seed Carpet 2M x 48cm on category Lawncare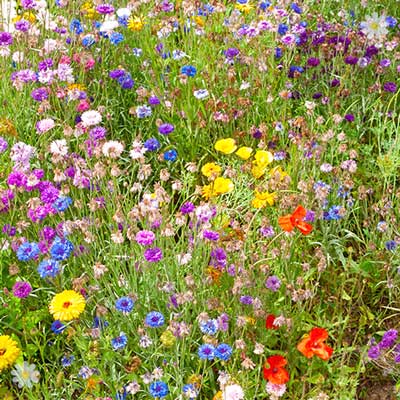 Introducing the perfect way to give butterflies and bees a helping hand in your garden whatever size, as well as having a gorgeous natural wildflower meadow too. You can grow a Mini Meadow as part of your lawn, a bit of garden border or even in pots, and help those beneficial insects which pollinate so much in our gardens. Containing a huge mix of annuals and perennials in over 20 species, all contained in a biodegradable paper seed carpet, with the seeds pre-spaced for optimum growth. Includes such favorites as Corncockle, Vetch, Candytuft, Toadflax, Primrose, Field Poppy and Forgte-me-Not. Working with one of the UK's leadings eed technology companies and seed suppliers, these mats are made for us without any fancy packaging to sell off the shelf, so we can keep our prices down. You get a huge 2M x 48cm carpet, which can be cut to shape as needed. Simply place directly onto dug soil, and cover wit a small amount of soil or compsot. Water and seeds witll germinate and establish, as the paper carpet degrades leaving you a flower meadow inside 18 Months.
About YouGarden
We firmly believe that Gardening is for Everyone! That's right, you do not even need a garden to get growing. Many of our plants can be grown on balconies, small patios and decking, so you can catch the growing bug, and grow your own freshest fruit and vegetables too.We speak in plain English. Sometimes gardening can be a confusing maze of latin names and strange words and can be confusing or off-putting – we simplify all and remove all the jargon, and give you down to earth advice on what to grow – and how!We will show you how to get success from our products through our videos and care instructions. We have only chosen plants that are easy to grow and will give successful results with a minimum of experience. From the thousands of plants available, we have picked those that really work and perform. We have done the sifting and choosing for you, to bring you the best.We all have gardens of our own, and have grown many of the plants we sell, and can provide simple, easy to do, hints and tips for success. So confident are we our plants will perform, we back it up with our unique Lifetime Guarantee on all hardy plants.
So, even if you do not have a garden, or have never gardened before – we can help you get started on the road to delicious fresh fruit and veg, and gorgeous flower displays.